Christmas At Luther
Christmas At Luther 2016 CD
Our Price:

$10.00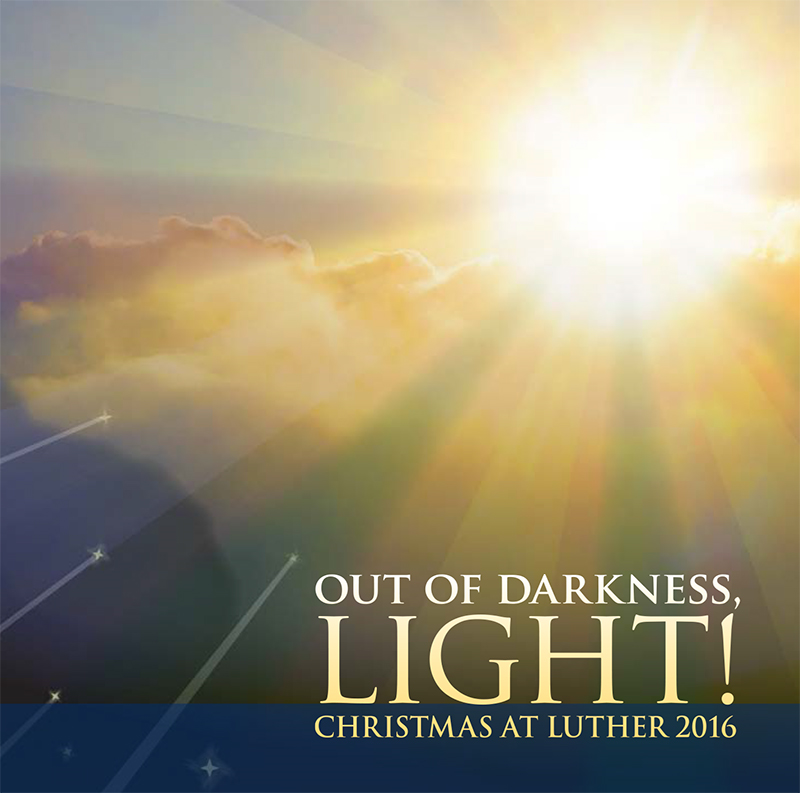 enlarge image
Product Description
Pre-order your copy of the 35th annual Christmas at Luther: Out of Darkness, Light!
This year's theme centers around light and darkness as we anticipate the Advent of Jesus Christ.
Ensembles on this album will include: Aurora, Norsemen, Cathedral Choir, Cantorei, Collegiate Chorale, Nordic Choir, Symphony Orchestra, and Luther Ringers.
Add this to your collection today!
Track List:
1. Introit: Let All Mortal Flesh Keep Silent
2. Kyrie (From Requiem, Op. 9)
3. Gloria (From Mass In B-Minor, BWV 232)
4. Alleluia
5. O Come, All Ye Faithful
6. Variations On A Burgundian Noel
7. Arma Lucis (Excerpt)
8. Still, Still Night
9. I Want To Walk As A Child Of The Light/Bring A Torch Jeanette, Isabella
10. Betelehemu
11. III The Pines Of The Janiculum (From Pines Of Rome)
12. O Magnum Mysterium
13. The Yearning
14. The Birthday Of A King
15. Carol Of The Magi
16. All My Heart This Night Rejoices
17. !Llega La Navidad! (Christmas Is Coming)
18. Bogoroditse Devo (From All-Night Vigil, Op. 37)
19. Still, Still, Still
20. Finale (From King David)
Shipping is $5.00 for 1 cd, $9 for 2-3 cds and $12 for 4+ cds.
Customers who bought this item also bought