Christmas At Luther
Christmas At Luther 2005 DVD
Our Price:

$5.00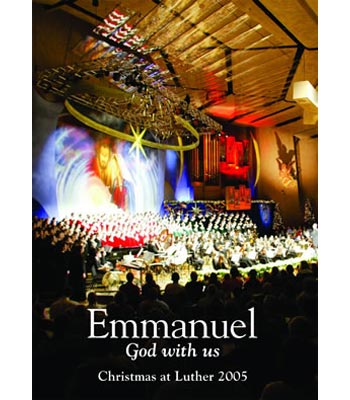 enlarge image
Product Description
Conductors: Craig Arnold, Daniel Baldwin, Frederick Nyline, Linda Martin, Sandra Peter, Timothy Peter
Track list:
1. Nimrod (from Enigma Variations, Op. 36)
2. Fanfare For A Festival Z. Randall Stroope
3. NARRATION
4. For Unto Us A Child Is Born(from Messiah)
5. O Come, All Ye Faithful
6. As Lately We Watched
7. Mbiri Kuna Mwari
8. Gloria (from Magnificat)
9. Chichester Psalms (movement I)
10. Cantemos a María
11. Sing Nowell, Sing Gloria!
12. Wake, Awake
13. Vom Himmel Hoch
14. Agincourt Song (from the film score Henry V)
15. A Christmas Alleluia
16. Tomorrow Shall Be My Dancing Day 17. Epilogue (from Hodie)
18. Jerusalem
19. NARRATION
20. Infant Holy, Infant Lowly Silent Night
Shipping and handling charge is $5.00 per item with a maximum shipping of $12.00.
Customers who bought this item also bought