Christmas At Luther
Christmas At Luther 2006 CD
Our Price:

$5.00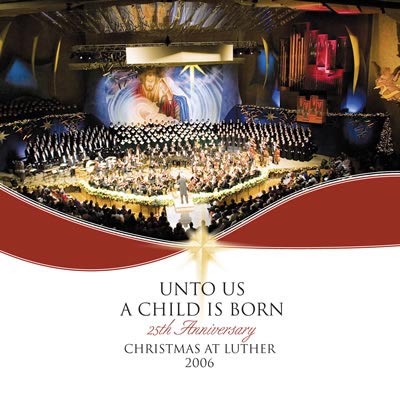 enlarge image
Product Description
Conductors: Craig Arnold, Daniel Baldwin, Linda Martin, Frederick Nyline, Sandra Peter, Timothy Peter
Track list: 1. I Wonder As I Wander 2. Fantasia on "Greensleeves"
3. Praise to the Lord, the Almighty
4. Break forth, O beauteous, heavenly light (from The Christmas Oratorio) 5. Glory Be to God 6. There Is No Rose 7. Out of the Orient Crystal Skies
8. On Christmas Night
9. O Little Town of Bethlehem
10. Fanfare for a New Millennium
11. Quoniam tu solus sanctus
12. Love Came Down at Christmas
13. A Child, My Choice
14. The Virgin Mary Had a Baby Boy
15. O Day Full of Grace
16. Silent Night (premiere)
17. Carillon (from L'Arlesienne Suite No. 1)
18. The Little Drummer Boy
19. Tomorrow Shall Be My Dancing Day
20. Noél Ayisyen (A Haitian Noël)
21. Noel: Votre Bonté Grand Dieu
22. Narration
23. The Many Moods of Christmas
Shipping is $5.00 for 1 cd, $9 for 2-3 cds and $12 for 4+ cds.
Customers who bought this item also bought