Student Ensembles
Finding A Voice Cd
Our Price:

$3.00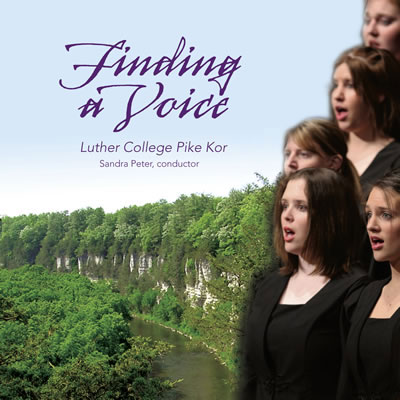 enlarge image
Product Description
Conductor: Sandra Peter
Track list:
1. O Come, Let Us Sing
2. Mary Speaks
3. Alleluia
4. Laetamini et exultate
5. Angelus ad pastores
6. Maria Magdalena et altera Maria
7. A Young Nun, Singing
8. I Want To Be, Mother
9. My Parents, As If Enemies
10. There's Nobody
11. Natus est Emmanuel: A Glee Of Angles At The Birth
12. Jack's Valentine
13. The Bike Let Loose
14. Now I Become Myself
15. Love Is A Rain Of Diamonds
16. Ubi Caritas
17. What Sweeter Music
18. Canticle To The Spirit
19. Fruits Of The Selfless Heart
20. View Me, Lord, A Work Of Thine
21. Come And Behold
22. Were You There Shipping and handling is $5.00 per CD with a maximum charge of $12.00.