Sale & Clearance Music
Christmas At Luther 2007
Our Price:

$5.00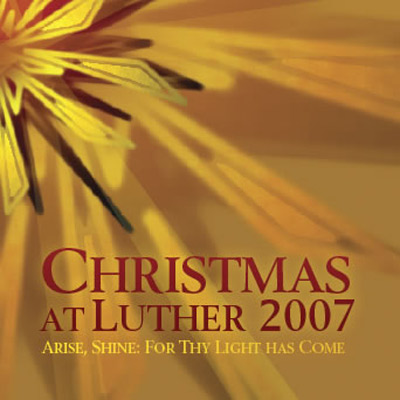 enlarge image
Product Description
Conductors: Craig Arnold, Daniel Baldwin, Linda Martin, Frederick Nyline, Sandra Peter, Timothy Peter
Track list: 1. Lux Aurumque2. Concerto Grosso, Op. 6, No. 8 Christmas Concerto First movement 3. Canticle of Joy
4. Arise, O God, and Shine 5. NARRATION 6. Arise, Shine (from What Child Is This)
7. Hark! A Herald Voice Is Calling
8. Hail, Christmas Day!
9. Rise Up, Shepherd, and Follow American carol
10. Messiah
11. Recitative
12. Chorus: Glory to God
13. NARRATION
14. Magnificat
15. Thy Little Ones, Dear Lord
16. Sing We Now of Christmas
17. Patapan
18. Carillon on a Ukrainian
19. Marche (from The Nutcracker)
20. Hark! The Herald Angels Sing
21. NARRATION
22. This Christmastide
23. Heroic Entry
24. Hodie Christus Natus Est
25. Come, Adore the Infant Holy
26. A Light Where Jesus Lay
27. To Him We Sing
28. NARRATION
29. NARRATION
30. Coronation Te Deum
Shipping and handling charge is $3.50per item with a maximum shipping of $10.50.
Customers who bought this item also bought