General Books
Heroes Of Olympus
Our Price:

$16.99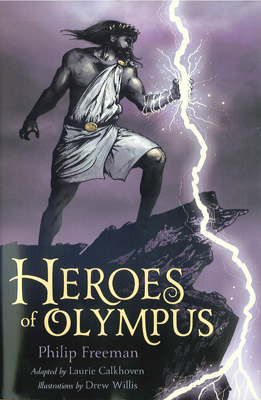 enlarge image
Product Description
Written by Luther College professor Philip Freeman.

A maiden is stolen away by the god of the dead to be the queen of the underworld...A swift-footed warrior woman challenges suitors to a race for her hand...To save a kingdom, a prince seeks out a terrifying Minotaur in the heart of a labyrinth...
From the triumphs of Theseus to the adventures of Atalanta, from the great romance of Orpheus and Eurydice to the trials of Hercules, Greek and Roman myths have captured our imagination. Readers of all ages still thrill at the heroic escapades of Jason and the Argonauts in pursuit of the Golden Fleece and are moved by the tragic story of Hades and Persephone.
Based on scholar Philip Freeman's Oh My Gods, a lively retelling of the classic myths, Heroes of Olympus is Laurie Calkhoven's entertaining adaptation of the beloved stories for a new generation of fans.
Taken from inside cover of novel.
ISBN 1442417293Binding Cloth