Music
Christmas At Luther 2009
Our Price:

$18.00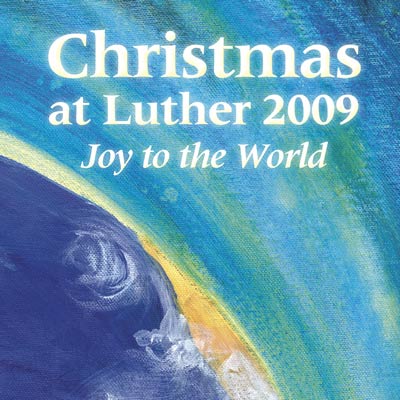 enlarge image
Product Description
Conductors: Craig Arnold, Daniel Baldwin, Linda Martin, Frederick Nyline, Sandra Peter, Timothy Peter, Gregory Peterson
Track List: 1. Processional: Joy to the World 2. Eventide (from Two Hymn Tune Preludes) 3. Thanks Be to God (from Elijah) 4. NARRATION
5. Joy, Joy, Joy 6. There is No Rose 7. Nowel 8. Angels We Have Heard on High 9. Wexford Candle
10. On This Day, Earth Shall Ring 11. Fanfare 12. Quittez, pasteurs 13. O Magnum Mysterium 14. Fantasia on a Ukranian Carol 15. Ou s'en vot ces gais bergers
16.Suo-gan 17. Agincourt Song (from Henry V Suite) 18. O Come, O Come, Emmanuel 19. S nami Bog 20. Gloria in Excelsis Deo!
21. Praise to the Lord 22. Silent Night with NARRATION 23. Gloria (movement III)
Shipping and handling is $3.00 per items with a maximum shipping of $12.00.
Customers who bought this item also bought